What's The Difference Between Sweet Peas And Green Peas? Sweet Peas and Green Peas are both extremely popular garden plants, however, there is a world of difference between them and they are grown for very different reasons.
Sweet Peas are a popular ornamental plant, particularly in the UK, that is grown for its flowers which are known to have a beautiful scent whereas Green Peas (also known as sugar and snap peas) is a popular plant in the vegetable garden that is grown to eat. Both plants produce pods and seeds however the Sweet Peas' seeds are toxic to humans when eaten in sufficient quantities.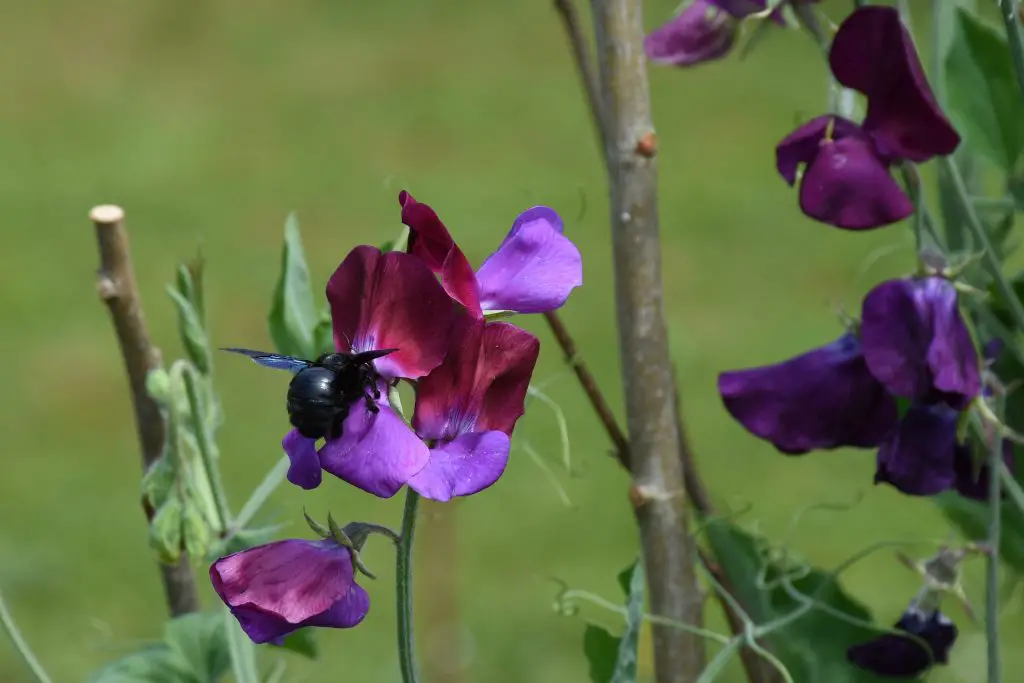 The Similarities And Differences Between Green Peas And Sweet Peas
Green and Sweet Peas both come from the same plant family, the Fabaceae or Leguminosae family, which is most commonly referred to as the legume family. As a result of this close relationship, they share many common characteristics listed below.
Fruit (Pod And Seeds): As mentioned above both plants produce fruit better known as the pod of the plant which carries the seeds. The seeds of the sweet peas are generally black in colour and are usually smaller, around two-thirds of the size of the seed of a green pea. In both cases, the seeds can be readily collected for planting the following year by allowing the seed pods to dry out at the end of the season.
The size of the sweet pea pods are also corresponding smaller than the green pea pods. They are generally between 2 to 4 inches long and are usually covered in hairs, where as most varieties of green peas tend to have a smooth texture on the surface. The pods of the green peas are also little thicker, usually slightly larger than the width of a pencil, with the exception of snow peas which have a flat pod.
There are also some varieties of edible pea that produced purple pods rather than green pod such as Desiree Dwarf Blauwschokkers.
Flowers: The flowers produced by sweet peas are the reason they are grown and they produce a wide range of colours which include white, red, pink and purple, with the majority of the flowers having mild to strong scents. Whereas edible peas tend to be mostly white, through there are some varieties that have purple flowers. Generally the volume of flowers produced by most varieties of sweet peas is also higher than edible peas
Additionally, edible peas have very little scent and do not hang around for all that long because they tend to have pods form in the centre of the flowers relatively quickly.
Growth Habits: Both types have peas have fair similar growth habits. Both are climbers that will normal reach heights of 3 to 7 ft (1 to 2 metres) though this does vary depending upon the particular variety. Both produce tendriles that can help the vine to cling on to support structures but also need to be tied into the support structure to prevent them from falling over. Both also have a tendency to become a tangled mess in they are allowed to grow freely and not pruned in any way.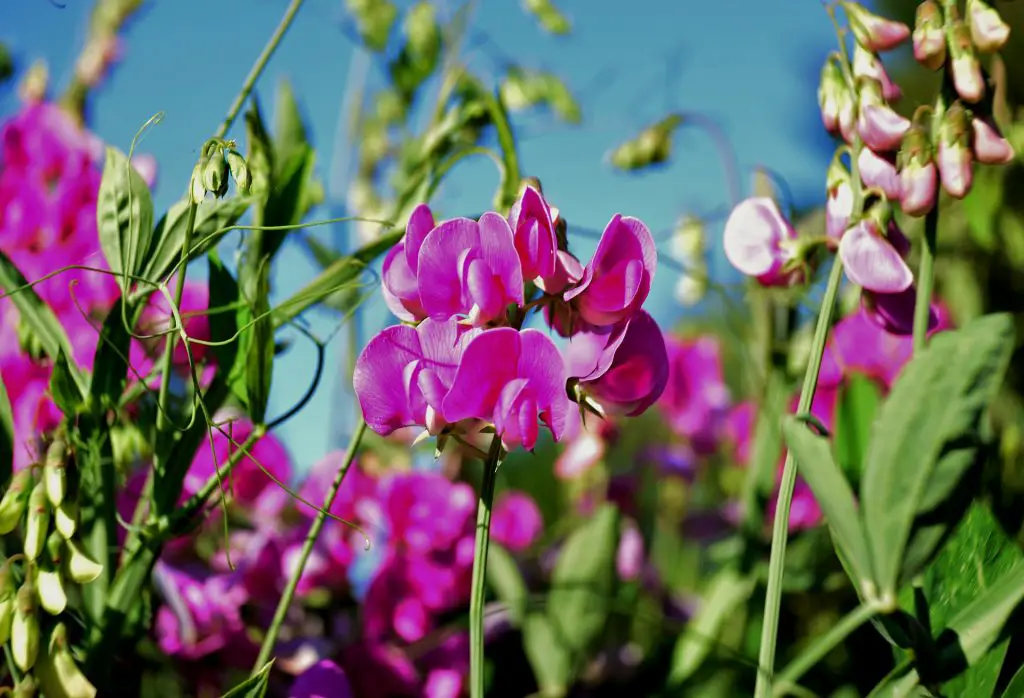 What Are The Best Varieties Of Sweet Peas?
Sweet peas have been widely cultivated since the 17th century. During this period a large number of cultivars have been developed and are sold today commerically. Many of the varieties sold in the UK currently have been tested by the royal society of horticulture over many years. As a result of these trials numerous varieties have received for the Award of Merit due to there outstanding characteristics.
A list of these varieties is provided below. To make it easier to find sweet peas varieties with the characteristic desired the varieties have been grouped by colour (Bicolour, White, Blue/Purple and Pink/Red) and sorted from smallest to largest with respect to height.
Bicolour
| | | | |
| --- | --- | --- | --- |
| Cultivar | Colour | Height | Fragrance |
| Northern Lights Cherub | pink/blue | 0.5m |   |
| Teresa Maureen | white/purple | 0.9m | medium |
| Solway Snowflake | white/pink | 1.0m |   |
| Hannah's Harmony | white/red | 1.1m | slight |
| Solway Sapphire | blue/white | 1.3m | slight |
| Tahiti Sunrise | white/coral | 1.7m | strong |
| America | white/purple | 1.8m | medium |
| High Scent | white/violet | 1.8m | strong |
| Oklahoma | white/crimson | 1.8m | strong |
| Patricia Anne | white/violet | 1.8m | medium |
| Sicilian Pink | cerise/white/purple | 1.8m | strong |
| Matucana | violet/crimson | 2.0m | strong |
| Sunset | white/pink | 2.0m | strong |
| Valerie Harrod | white/pink | 2.1m | medium |
| Lauren Landy | cream/pink | 2.5m | medium |
| Pandemonium | white/pink | 2.5m |   |
| Pocahontas | white/pink | 2.5m | medium |
White
| | | | |
| --- | --- | --- | --- |
| Cultivar | Colour | Height | Fragrance |
| Aphrodite | white | 1.5m | strong |
| Bramdean | white | 1.8m | strong |
| Dorothy Eckford | white | 1.9m | medium |
| Brook Hall | white | 2.0m |   |
| Cathy | white | 2.0m | medium |
| Martha Mary | white | 2.0m | medium |
| Mary Mac | cream | 2.0m |   |
| Wedding Day | white | 2.1m | strong |
| Jilly | white | 2.2m | medium |
| White Supreme | white | 2.3m | strong |
Blue/Purple
| | | | |
| --- | --- | --- | --- |
| Cultivar | Colour | Height | Fragrance |
| Bounce Navy Blue | blue (deep) | 0.6m |   |
| Bounce Mid Blue | lavender | 1.0m |   |
| Flora Norton | blue | 1.5m | medium |
| Bristol | pale violet | 1.7m | strong |
| Ballerina Blue | blue (pale) | 1.8m | strong |
| Margaret Joyce | violet | 1.9m | strong |
| Charlie's Angel | violet (pale) | 2.0m | strong |
| Chris Harrod | blue (pale) | 2.0m |   |
| Noel Sutton | violet blue | 2.2m | medium |
| Heathcliff | blue (violet) | 2.5m | strong |
| Just Julia | blue (mid) | 2.5m | strong |
Pink/Red
| | | | |
| --- | --- | --- | --- |
| Cultivar | Colour | Height | Fragrance |
| Lavender Sprite | pink (lilac) | 0.25m | medium |
| Crimson Cherub | red | 0.4m | medium |
| King Edward VII | crimson | 1.5m | medium |
| Lady T. Cherub | pink/red | 1.5m | medium |
| Evening Glow | pale pink | 1.7m | slight |
| Bobby's Girl | pale salmon pink | 1.8m | medium |
| Janet Scott | pale pink | 1.8m | strong |
| Wretham Pink | pink (pale) | 1.8m | strong |
| First Flame | salmon | 2.0m |   |
| Gwendoline | pale pink | 2.0m | medium |
| Madison | pink/red | 2.0m | strong |
| Tranquillity | red | 2.0m |   |
| Duo Salmon | red/pink | 2.1m | strong |
| Lipstick | pink (magenta) | 2.2m | strong |
| Mrs Bernard Jones | pink/white | 2.3m | strong |
| Jacqueline Heather | white/pale pink | 2.5m |   |
| John Gray | white/pale pink | 2.5m | medium |
| Somerset Lady | pink (magenta) | 2.5m |   |
| Starlight | magenta | 2.5m | medium |
Paul Smart