What is the Difference Between a Determinate or Indeterminate Tomato? Tomatoes are one of the most popular fruit and vegetables to grow at home because they are relatively to grow and taste so much better than store brought tomatoes. Tomatoes are often classified into 2 main groups Determinate and Indeterminate, so what is the difference?
Indeterminate Tomatoes, sometimes called climbing Tomatoes, have a "vine-like" habit and can grow up to 6 to 20 ft (1.8 to 4 m) tall, whereas determinate tomatoes, also known as bush tomatoes, typically only reach a height around 4 ft tall. The main advantage of indeterminate tomatoes is that they continue to produce throughout the season until the first frost hits whereas are bush tomatoes produce their fruit all at once. Additionally, the overall volume of fruit in most cases is higher with indeterminate tomatoes. To read more about the volume of fruit produced by a single plant click here.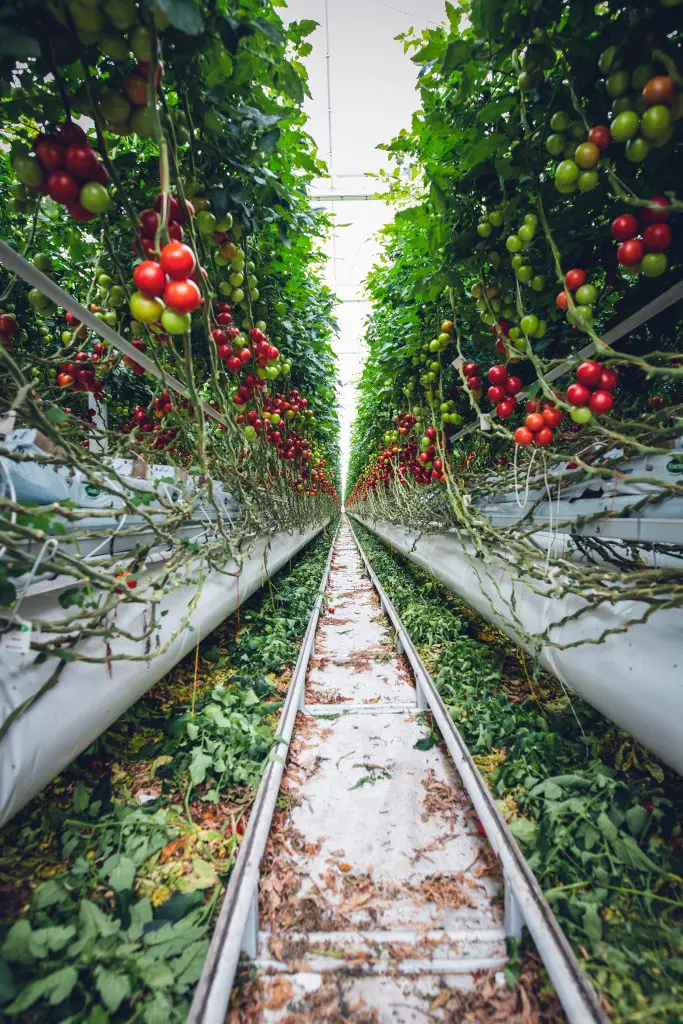 Pros and Cons of Determinate Vs Indeterminate Tomatoes
Harvest Timing for Tomatoes 
Determinate Tomatoes produce their fruit over a short period, usually approximately 2-3 weeks, this is advantageous if you planning to make sauce or canning. On average, determinate varieties will also produce a harvest earlier, though there is some variation here.
Indeterminate Tomatoes produce fruit progressively throughout the growing season, allowing a continuous harvest, over an extended season. The distribution of the percentage harvest we achieve typically is displayed in the graph below. The data was taken from a study conducted in the southern hemisphere.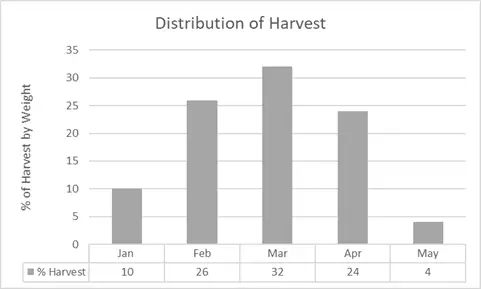 Harvest Size – Determinate Vs Indeterminate Tomatoes
Indeterminate varieties will generally produce a larger harvest over the entire season. In most studies, where there is a broad number of species being tested, the average yield is typically 20-30% higher, however, there is often a large variation in yields depending upon the specific variety. 

Caring for Determinate Tomatoes
Determinate Tomatoes are relatively small and bushy plants, and therefore do not require any staking or support structures. Due to their compact nature, they are ideal for growing in pots. Seeds should be sown in late winter or early spring undercover. The seedlings can be planted out 1-2 weeks after the last frost, in a sunny spot. They require 6-8 hrs of sun per day and regular watering in the first few weeks after transplanting the seedling.  
They require the removal of suckers, sometimes referred to as side shoots, on a regular basis. A sucker is a tiny stem that grows at 45 degrees, between the main trunk of the plant and side branch of a tomato. This is recommended because the stem competes for nutrients with the original plant. If not removed, the tomatoes will be smaller.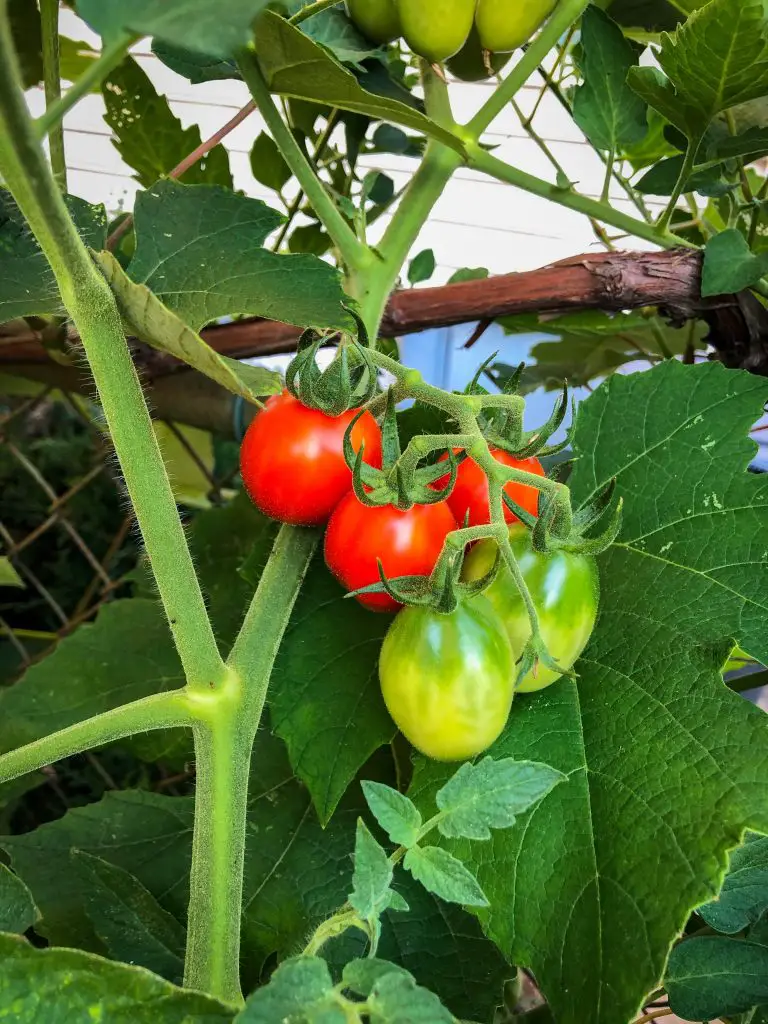 Never prune the top of a determinate Tomato, as this will reduce the volume of fruit produced. You will want all the fruit you can get from these shorter plants, and they will stay bushy without needing to prune.
What are the Best Determinate Tomato Varieties?
The top 5 varieties recommended are based on extensive trials completed by the "Diggers Club". These Tomato trials were published in the "Australian Vegetable Garden – What's New is Old" by Clive Blazey. The book covers a range of vegetables, and is one of the most detailed works available. I would recommend it to any gardener wanting to improve their knowledge on vegetables it is available on Amazon.
There is a broad number of Tomato Seed varieties available from Seeds Now in the US and Thompson & Morgan in the UK, however, where I have been able to find the specific varieties links have been included for where to purchase the seeds.
| | | | | |
| --- | --- | --- | --- | --- |
| Variety | Days to Harvest | Yield per plant (kg) | Yield per plant (lb) | Comment |
| Celebrity | 85 | 12.2 | 26.8 | Hybrid plant that produces 200-300g (7-10 oz) red fruit.  It is considered a disease-resistant variety, and was an all-American Selection. |
| Olomovic | 77 | 11.8 | 26.0 | Produce smallish, 30 to 140g (1-5 oz) red, round fruits with very good, balanced flavors. |
| Banana Legs | 95 | 9.5 | 20.9 | A yellow, 3 by 10cm (1.5 by 4 inch), banana-shaped fruit. |
| Gold Nugget | 81 | 9.0 | 19.8 | F1 hybrid.  The plant produces a yellow cherry fruit that is recommended because of its disease resistance. |
| Black Russian | 77 | 7.4 | 16.3 | An heirloom variety that produces a medium-sized purplish-red (almost black) fruit, with greenish-black flesh. |
Caring for Indeterminate Tomatoes
Indeterminate Tomatoes require similar care to Determinate Tomatoes, in that they require seedlings to be planted after the last frost, in a sunny spot and suckers need to be removed regularly, to read more about how to optimize your harvest through pruning click here. However, they also require significant support throughout the growing season.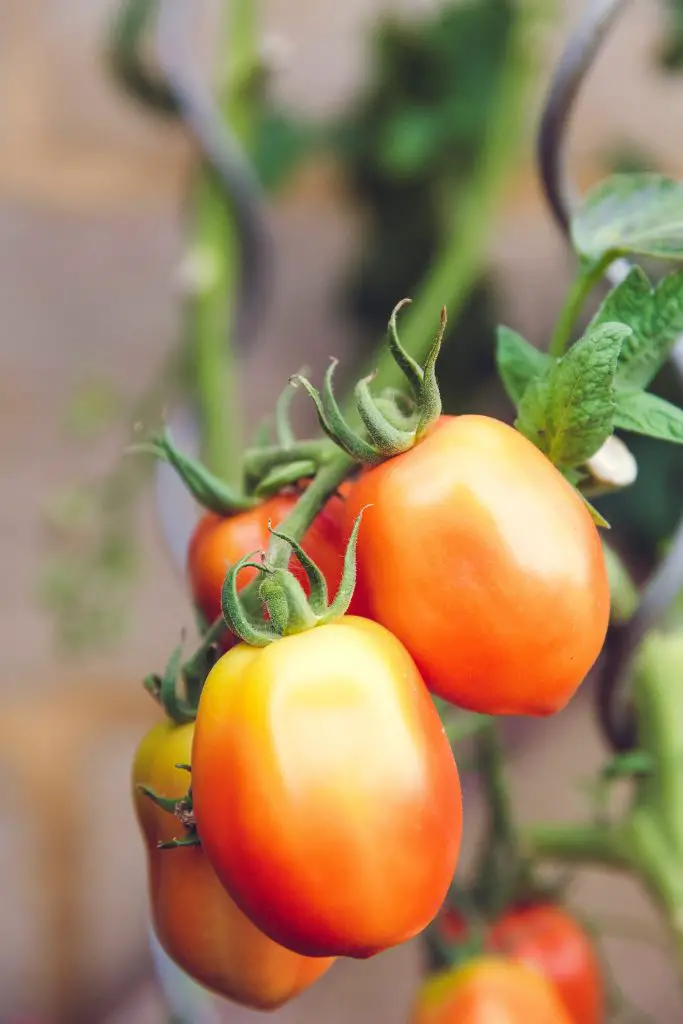 What is the Best Way to Support Determinate Tomato Plants?
There are several different types of structures that are used to help support the Tomato plants. These can include simply using a single stake or, a commercially available structure, such as a tomato cage. However, I have found that these types of structures are not tall enough to take full advantage of the growth of a plant, because they are only about 1.5 (5 ft) tall. As a result, it is common to see Indeterminate Tomatoes flopping around all over the place at the end of the season, which will affect the yield achieved from each plant.
To overcome this, the structures used simply must be taller than those sold commercially, at least 6 to 8 ft (2 m) high.  However, the difficulty with creating structures of this size is that they need to be sufficiently stable to support the plants over an extended period while being easy to erect and remove at the end of the season, to allow crop rotation the following season. 
There are some simple options that will give you an ongoing and permanent solution to this problem. All of the options mentioned can be supported using metal star pickets at the base of the structure, which will provide a strong but temporary anchor that can be removed quickly and easily at the end of a season. Metal star pickets are preferred over large wooden stakes, as they will not decay or split as readily and are only marginally more expensive.
Option 1 – Reo Mesh. The panels are typically 2.4 m (8 ft) long and 2.1m (7ft) tall and can be cut down to size readily.  They are low cost, will last a long time, and rust over time providing a beautiful natural appearance that is both attractive and functional.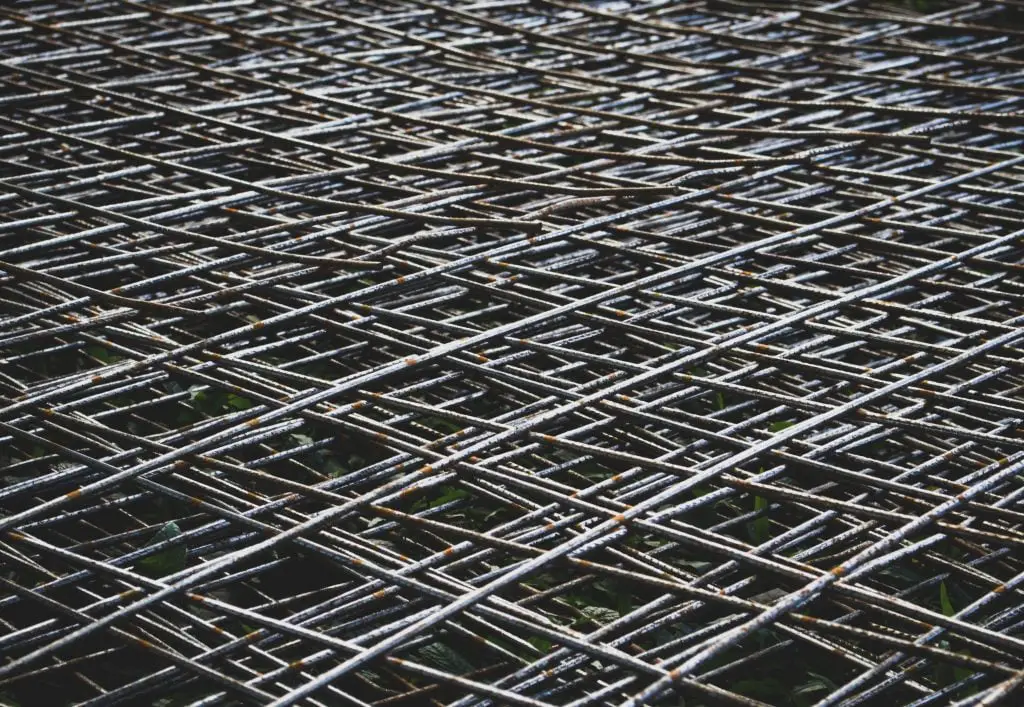 Option 2 – Temporary Fencing Panels They are more expensive and sturdier than the Reo Mesh and will last for many years. The panels are typically 2.4 m (8 ft) long and 2.1m (7ft) tall and cannot be cut down to size as easily, due to the thickness of the external frame. They are usually made of galvanized steel and will not rust like Reo Mesh. If you are lucky, you may be able to get these panels for free, if they are leftover at building sites.  
Option 3 – Building Supports from Structural Timber, Hazel Rods or Bamboo Canes. This type of structure will cost you nothing if you have the timber laying around the house or you have a Hazel Tree or Bamboo Plant. For my own garden, I actually grow Bamboo Plants on my property, specifically to provide an ongoing free source of structural material.  This option can be laborious to set up and take down each year.  
The setup usually consists of an outer frame made of Timber that is strong, so it can support the weight of the Tomatoes. The inner part of the structure normally has relatively thin Bamboo Canes that the plants are tied to.  Alternatively, some gardeners attach strings to the top of the frame with the other end placed underneath the plant, when it is planted in the ground. As the plant grows, the Tomatoes are wound around the string, providing the support required during the growing season.  This method is often seen also in hoop houses where strings are tied from the top of the frame.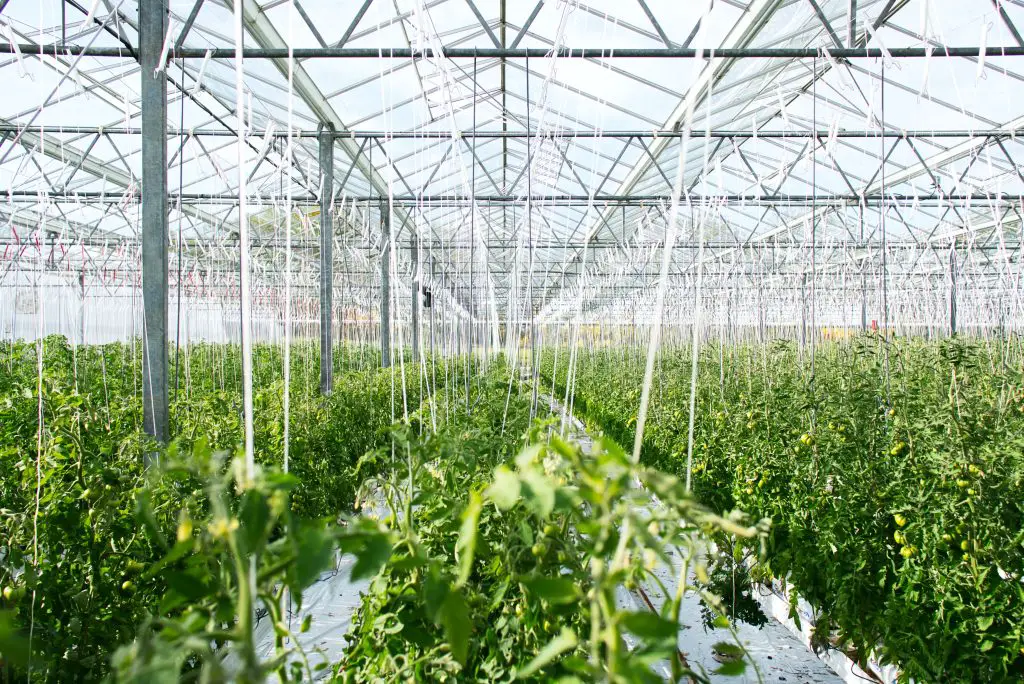 What are the Best Indeterminate Tomato Varieties?
Links have been included for where you can buy the seeds for the different varieties. You can also try visiting our vegetable database which has lots of information on different varieties of plants,
| | | | | |
| --- | --- | --- | --- | --- |
| Variety | Days to Harvest | Yield per plant (kg) | Yield per plant (lb) | Comment |
| Tigerella | 73 | 20 | 44 | Open-pollinated plants that produce small fruit with red and orange stripes.  It is also known as 'Mr. Stripey', it has excellent resistance to late blight and an excellent flavor. |
| Grosse Lisse | 86 | 16.4 | 36.08 | Open pollinated plants that produce a relative large smooth red fruit.  Widely grown in Australia.  Rated as having excellent flavour. |
| Mortgage Lifter | 90 | 16.4 | 36.08 | A widely grown variety that produces large red fruit that is over 1 kg in weight (2 lbs). |
| Amish Paste | 86 | 15.7 | 34.54 | Open pollinated plants produce medium sized red fruit, approximately 200g (8 oz). |
| Tommy Toe | 72 | 11.3 | 24.86 | A Red Cherry Tomato that won the over Diggers Blind Taste Test against over 100 different varieties of Tomatoes. |
Related Articles
Are Grafted Tomatoes Really Worth The Money?
Do You Need To Prune Indeterminate Tomatoes?
How Many Tomatoes Can You Get From One Plant?
Why Do Cherry Tomatoes Taste Better Than Regular Tomatoes?
How Can You Tell If A Tomato Flower Is Male Or Female? And How To Hand Pollinate Them.
Is It Too Late To Plant Tomatoes? And How To Make The Most Of Summer
Can You Plant Seeds From A Store Bought Tomato? (Is It Possible?)
Paul Smart