How Many Pumpkins Are Produced Per Plant? Pumpkins are one of the most rewarding vegetables to grow in the backyard because you can grow masses of pumpkins and store them for use throughout the year. I personally produce over 200 lbs of pumpkins every year and no longer buy them from the grocery store at any stage throughout the year. However, if you are planning to grow pumpkins the obvious question is how many pumpkins do you get from a plant, and how big are they?
Pumpkins plants in most cases produce between 1 and 3 fruit per plant however can vary significantly depending upon the specific variety. The size of the fruit produced can also vary widely depending upon the variety however it is most common to see pumpkins between 2 and 10 lbs being produced and it is most common to see a yield between 6 and 66lbs (3 and 30 kg).
The Diggers Club in Australia carried out trials on a range of different pumpkins that provide an indication of the degree of variation that might be expected in terms of yield between different varieties. This data has been published in the book The Australia Vegetable Garden by Clive Blazey. The book is a detailed resource that provides quantitative data on a range of vegetables and gives a good idea of how much you can expect to produce.
| | | | | |
| --- | --- | --- | --- | --- |
| Variety | Days to Fruit | Fruit Size (kg) | No. of Fruit | Yield per Plant (kg) |
| Butternut | 119 | 1.5 | 2.20 | 3.4 |
| Jarradale | 131 | 4.6 | 3.50 | 16.1 |
| Queensland Blue | 152 | 6.2 | 3.25 | 20.3 |
| Australian Butter | 119 | 5.5 | 3.25 | 17.9 |
| Rouge vit d'Etampes | 96 | 7.4 | 1.00 | 7.4 |
| Bohemian | 119 | 5.1 | 1.80 | 9.2 |
| Iron Bark | 124 | 3.5 | 2.40 | 8.3 |
| Ebony Acorn | 126 | 1.8 | 18.10 | 32.6 |
| Pink Banana | 119 | 9.4 | 2.93 | 27.5 |
| Spaghetti Squash | 123 | 1.85 | 5.40 | 10.0 |
| Turk's Turban | 114 | 5.9 | 3.10 | 18.3 |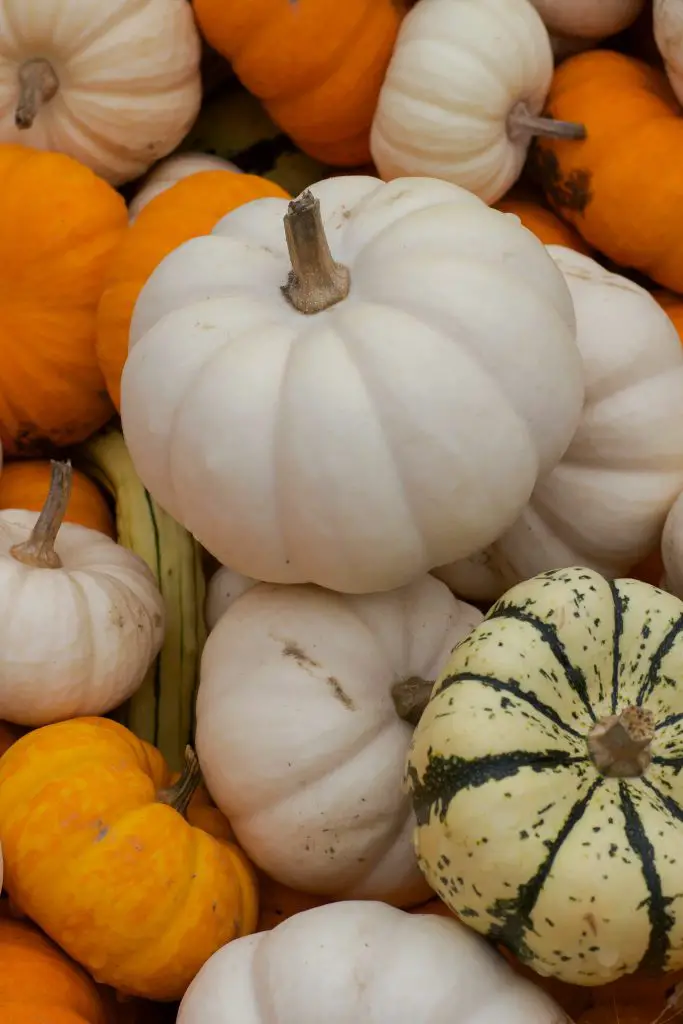 How to Grow Pumpkin
Pumpkins are a relatively easy vegetable to grow as the seeds germinate readily and the plant requires very little maintenance throughout the growing season. Pumpkins can only be grown in the warmer months of the years as the plants are sensitive to frost.
Sowing Seeds
In most regions, the best time to sow seeds is in Spring. Pumpkin seeds can be planted directly into the soil at a depth of 2 to 3 cms (1 inch). They will germinate easily in the garden however I prefer to start the seeds off in trays. The advantage of using seeds trays is that the plants can be started off earlier in the season as the plants can be kept warm and frost-free indoors or in a greenhouse.
When planting seeds in trays it is best to use a seed raising mix rather than garden soil which can contain pathogens and weeds seeds that can interfere with the pumpkin seedlings. It is best to plant 2 seeds per cell which can be later thinned down to the strongest seedling.
Germination of the pumpkin seeds is generally quite rapid and will occur within a few days to a week of planting. The seedlings usually take between 4 and 6 weeks before they are large enough to be transplanted into the garden.
When first transplanted into the garden pumpkin seedlings can be highly susceptible to attack from slugs and snails. As such it is advisable to apply protection on the same day the seedlings go into the ground. This can be done using snail pallets or using a physical barrier. As the plant increases in size, the susceptibility to attack reduces dramatically.
If you live in a region such as the UK where the spring weather can be unpredictable it is also advisable to use row covers or a cloche as this will help to increase the soil's temperature somewhat and aid in the plant's development.
If you don't currently own a row cover the one we would recommend is the Growsun Garden Tunnel Plant Cover because it is relatively tall and has hoops that can be anchored deeply into the ground which allows it to resist wind. The product is shown in the image below.
Growing Conditions
Pumpkins do best in rich and moist soil that are free draining. The easiest way to increase the nutrient level in the soil is to use the no-dig method.
The no-dig method requires a relatively thick layer of compost, 2 to 4 inches to be applied to the surface annually. The layer does not need to be dug into the soil as it acts as a mulch while also feeding the soil. To learn more about the benefits of this technique click here.
Once planted the pumpkins require relatively little maintenance however, it is important to ensure that the plant does not dry out by regularly watering them. However, it is best to avoid wetting the leaves as Pumpkins are highly susceptible to powdery mildew which is a powdery white fungus that covers the leaves. This almost always appears late in the season.
At this stage, it usually doesn't affect the yield significantly but it is a little unsightly. There are several effective treatments that can be used to reduce the extent of the infection. To read more about this click here.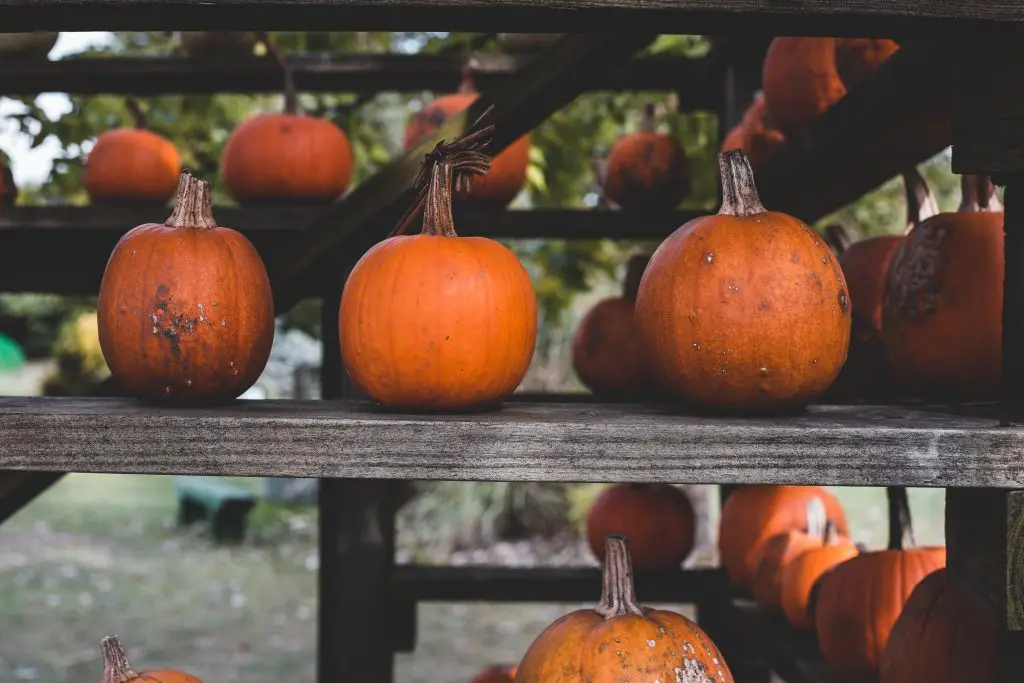 Harvesting Pumpkins
In Autumn it is common to see the foliage die back which is one of the indicators that the fruits are approaching the point where they are ripe. The other indicator is that the pumpkin is ready to harvest is a color change which is usually accompanied by the skin becoming tough. Additionally, the pumpkins will develop a hollow sound when you knock on them.
When harvesting the pumpkins it is important to leave approximately 2 inches (5 cm) of stem on the fruit as this is the point where bacteria can most easily enter the pumpkin reducing the shelflife. Leaving the stem on reduces the access of bacteria to the fruit. If the stem is accidentally removed when harvesting it is best to use this Pumpkin first.
How to Store Pumpkins
Pumpkins are easy to store and require no special conditions to be stored for a few months. However, like most vegetables, they do last longer if they are stored in a cool dark location. Under these conditions, pumpkins can be stored for 12 months.  
Additionally, it is recommended that you lie Pumpkin on their sides in storage as this will prevent any chance of water pooling around the stork for an extended period of time which can reduce shelf life.   

Related Articles
Can I plant pumpkin seeds from a store brought pumpkin?
Why are my pumpkin leaves turning white?
How Much Space Do You Need Between Pumpkin Plants?
Do Pumpkins Grow Back Every Year?
Can Pumpkin Be Grown In A Pot? (And Here Is How To Do It)
Are Pumpkins Berries? If So, Why?
Paul Smart